Alabastro is another excellent son of the noble stallion Quartzo (RC). As his sire, Alabastro is Isabel colored, has a very good size, movements and conformation of a sport horse.
Riding him is very pleasant as he is naturally balanced, his precise movements grants him a real possibility of great success on the Dressage show rings.
Dam: Quica HI by Quarteto do Top is a beautiful buckskin mare that imprints colour to her descendants. Quica HI is Afiançado de Flandes' (CFQ) granddaughter, which is an important breeding stallion of the modern Lusitano sport horse formation.
Dam's Progeny: Vicoso V.P. 10/21/01 and Xalaca V.P. 04/18/03 both by Donaire (OI); Alabastro do Vouga 10/31/04, Bailarina do Vouga 12/02/05 and Conde HI 01/21/07, all these three by Quartzo (RC).
Trainer's Opinion: This charming Isabel has a big talent to sport besides his beauty! He performs three defined gaits, a very rhythmical and balanced trot, a powerful canter and a naturally good walk. He is pleasant to ride, self confident, and an amateur or a experienced rider will enjoy and appreciate his potential.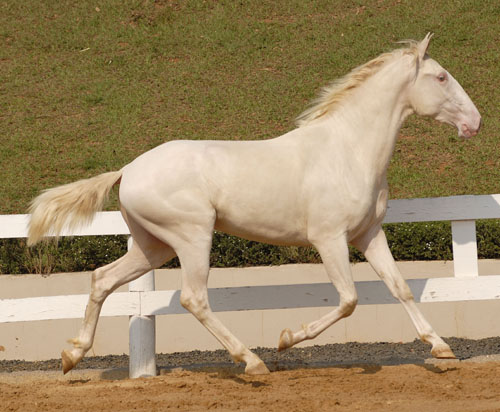 Photo: Tupa
Click on the tumbnails to enlarge the pictures