Sire: Ofensor (MV)
Dam: Urtiguita Interagro is by Órbita (MV) who in turn is by Danúbio (MV) these qualities more then recommended the mating with Ofensor (MV) a decision whose result is evident in Alcetas himself.
Interagro Dam's progeny
Bermuda Interagro by Noblíssimo Interagro on 22-sep-2005
Cardeal Interagro by Ofensor (MV) on 04-sep-2006
Dolores Interagro by Ofensor (MV) on 15-sep-2007
About Alcetas:
Alcetas Interagro is the ideal competition horse due to his impressive breeding, excellent extension and collection in his trot and canter and his notable athletic ability. This lovely, pure Veiga stallion is already built naturally uphill with a big elastic shoulder and quick, active hocks. Horses from the Veiga bloodline are known for slow maturation; thus Alcetas will not reach his full size and muscular strength until he is eight-years-old. But already, he is an easy horse to train as he is very willing and focused. Perfect for the quiet rider who likes a sensitive, expressive mount, Alcetas Interagro will be a star when he develops, and his prominent pedigree will bring tremendous quality to anyone's breeding program.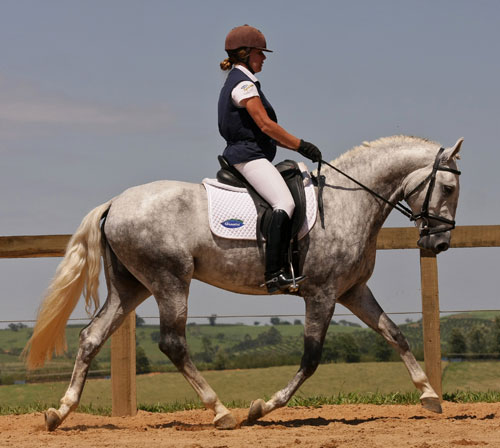 Photo: Tupa
Click on the tumbnails to enlarge the pictures
Approved as Stallion by the ABPSL