Sire: Ofensor (MV)
Dam: Traquina Interagro is a young mare of rare beauty and quality, daughter of Legendário do Mirante, the most famous son of the renowed Novilheiro (MV), with Nobreza (MAC) a Coimbra mare who achieved 81 points at revision.
Interagro Dam's progeny
Zen Interagro by Ofensor (MV) on 19-aug-2003
Bandoleira Interagro by Quínio Interagro on 13-oct-2005
Diana Interagro by Quínio Interagro on 20-oct-2007
About Arsaces:
Arsaces Interagro demonstrates great potential as a competition horse, breeding stallion and "best friend." One of the happiest horses at Interagro Farm, he welcomes attention, especially having his nose rubbed. Sensitive, forward and calm, this beautiful stallion is a confident horse that likes to go out on a hack or work in the ring. Like his sire, Ofensor (MV), he has a big free shoulder and finds extension and engagement easy though his rider needs to keep him through in his back. Though the "Ofensor boys" are generally best ridden by the more experienced equestrians, Arsaces is the second easiest of them to ride, behind Amintas Interagro. Arsaces Interagro, a naturally uphill horse with a wonderful hind leg, has beautiful large eyes and a love for his work.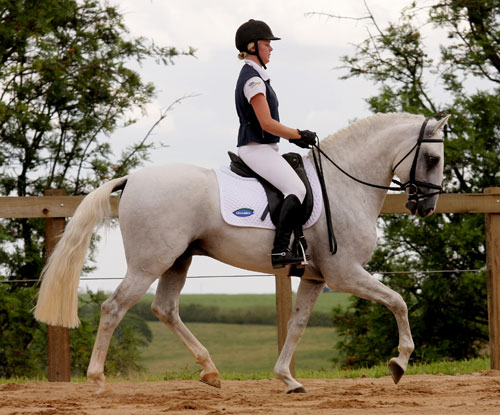 Photo: Tupa
Click on the tumbnails to enlarge the pictures
Approved as Stallion by the ABPSL