Sire: Ofensor (MV)
Dam: Miga (MAC) is a Coimbra mare from Hábil (MV) and Castiça (MAC). The very important, less obvious information about this family is that Zimbro II (MV), Hábil (MV)'s grandfather was also the father of Danúbio (MV), the latter being the Great Champion of Champions, head of the most important and impressive Lusitano progeny of the moment. Danúbio (MV) was imported by Interagro, among his sons is Ofensor (MV), now at Interagro.
Interagro Dam's progeny
Turandot Interagro by Legendário do Mirante on 20-aug-1999
Ulfila Interagro by Visqueiro (CI) on 05-aug-2000
Babucha Interagro by Noblíssimo Interagro on 11-oct-2000
Vinífera Interagro by Profano Interagro on 14-jan-2002
Zacynthus Interagro by Ofensor (MV) on 27-nov-2003
Xantal Interagro by Rocinante Interagro on 18-dec-2004
About Astyages:
Astyages Interagro is a noble, powerful stallion with the gaits and status desirable to a dressage competitor or breeder. Even though this strong, elastic horse is still growing, he already displays balance under saddle and a natural cadence. An elegant, expressive mover with powerful hocks and hind end, he has a great talent for carry and pushing command. He shows an easy ability to extend his stride and exhibits three solid gaits in his repertoire with a special quality in his walk. Astyages is the horse for a confident, experienced rider who can handle the stallion's boldness, certainty and strong opinion. He is also a horse that is not short on personality. He is definitely playful and has a sense of humor. He can bounce out of happiness, but also loves to work; however, like any teenager, he can get bored if not kept involved. With a confident rider to manage his bold personality and energy while still allowing him to feel his pride, Astyages Interagro will be a serious dressage competitor. Carrying the pedigree of his super sire Ofensor (MV), Astyages is also a top class horse for the wise investor.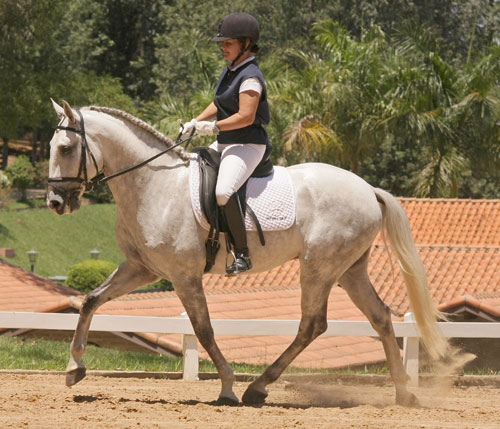 Photo: Tupa
Click on the tumbnails to enlarge the pictures
Approved as Stallion by the ABPSL