Sire: Faraó (JHC)
Dam: Quichua Interagro, by the famous Coudelaria Nacional Stallion Tuim (CN) and the Grand Champion Kiwi do Mirante, producer of very athletic and functional horses.
Interagro Dam's progeny
Usitária Interagro by Legendário do Mirante on 01-aug-2000
Via Láctea Interagro by Noblíssimo Interagro on 24- dec-2001
Xilema Interagro by Perdigueiro (MAC) on 18-nov-2002
Zanzo Interagro by Quinárius Interagro on 07-nov-2003
About Acólito:
Acólito Interagro is a son of renowned Faraó (JHC) that together with his full brother Gatão (JHC) – the sire of Nirvana Interagro - both Grand Champions in Portugal (Lisbon and Golegã) with wide and important highly functional offspring. Acólito Interagro is best described as a charismatic horse with an eager-to-please, cheerful attitude. You will find it hard not to smile when you ride this horse. He loves his job and is extremely trainable because of his lovely character, natural balance and forward gaits. Rose grey with dark points, Acólito has a distinctive, handsome appeal. Given his manageable body type, this horse is easy to ride into contact. His intelligence, natural athletic coordination and quiet nature contribute to his ability to retain what he has learned. A lovely choice for many different riders, Acólito is a horse that is sure to make someone very happy. Acólito's sire, Faraó (JHC), has imprinted many of his sons with a gift for piaffe and passage; fortunately, Acólito shows the potential for this gift, too. Not only is this horse a show horse prospect, but best of all, he possesses the kind of endearing characteristics that make him feel like a friend. Acólito Interagro is an excellent choice for an amateur or junior who wants to achieve success in the competition ring and have a special relationship with his horse, as well.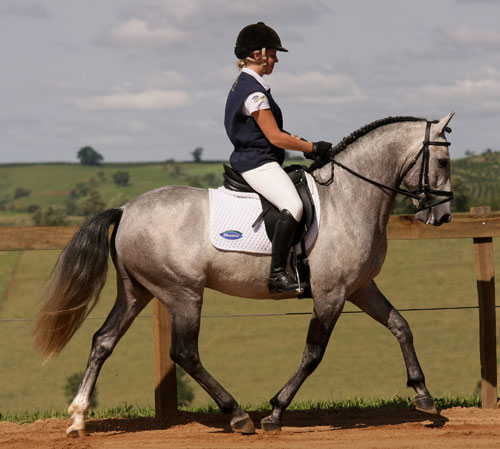 Photo: Tupa
Click on the tumbnails to enlarge the pictures
Approved as Stallion by the ABPSL