As the meaning of his name states, this young stallion is admirable. Beautiful and with an athletic conformation and good body structure, Admiravel is very talented and moves really well! His gaits are very correct and efficient what give him rhythm and balance for a very pleasant ridding. His temperament is sweet and submissive, very safe for the rider.
His lineage is directed to sport horses; Admiravel's sire is Portugal (PC) – a stallion winner of Dressage competitions in San Jorge category – by Infante (CFR) and grandson of Dragão II that is confirmed as a sport stallion.
Dam: Palmyra Harmonia, by Danubio II (MV), son of Venturoso III (MV), has a very noble bloodline.
So many qualities make Admiravel do Vouga a great and promising horse for sport and breeding.
Dam's Progeny: Xuyta do Castanheiro (01/19/03 by Zigue), Zabumba do Castanheiro 12/26/03, Admirável do Vouga 12/22/04 and Bohemia TS 12/01/05 these three by Portugal (PC); and Cripton TS (12/01/06 by Precioso HM).
Trainer's Opinion: This talented young horse has beautiful gaits, is easy to ride and has a charisma that makes everybody around him love this horse. His training consists in basics movements and transitions, where he shows good balance and concentration. He is perfect for his age, with a promising future on sport!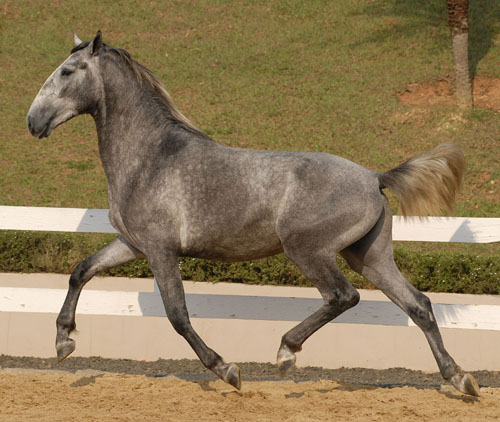 Photo: Tupa
Click on the tumbnails to enlarge the pictures