Sire: Tufão Interagro
Dam: Upiki Interagro
Alvarinho's Dam, Upiki Interagro [Pilatos Interagro x Kipper (SA)] is a zebra-striped dark buckskin mare. Except for her height, she has the typical look of the ancient Sorraias, the wild horse of Portugal. Upiki Interagro has produced five offspring: three Isabels and two buckskins, Alvarinho being the eldest. Upiki's dam, Kipper (SA), is one of the ten top brood mares at Interagro and, with an Interagro progeny of sixteen to-date, is still active. Her two sons from Kipper, the mare Radagast Interagro and the stallion Alter Interagro were exported to the U.S., the latter sold in the 2009 Collection. Tufão Interagro [Nicola (MAC) x Cyclope (SA)], a beautiful golden-buckskin top stallion, seemed to be indicated for Upiki Interagro, and the result, Alvarinho Interagro, exceeded our most optimistic expectations. He is not only beautiful and unique in his appearance, but also a very functional horse, hard to describe without being influenced by his presence and charm.
Interagro Dam's progeny:
Brinco Interagro by Tufão Interagro on 31/Aug/2005
Cupido Interagro by Tufão Interagro on 02/Sep/2006
Delfos Interagro by Tufão Intergro on 20/Sep/2007
Erótico Interagro by Tufão Interagro on 30/Oct/2008
Trainer´s opinion:
In 2009, we were asked, "Where are the Isabel's?" We did not want to disappoint you in 2010, so we brought Alvarinho Interagro. This gorgeous, golden stallion appears far larger than 16.1 hands. Alvarinho Interagro is extremely intelligent, trainable and calm, but our favorite quality about him is that he truly loves people. Sporting a charismatic, gregarious personality, he quickly learned that if he acted like a clown, he would receive extra attention from all of the riders and staff at Interagro. Alvarinho Interagro feels he is very important and seems to greatly enjoy his status, which he demonstrates with confidence and delight. Eager to be surrounded by people, he will expect nothing less than becoming the center of his new owner's world. Alvarinho also responds well to applause and a few extra carrots. Easy to train because of his self-assurance, this handsome stallion learned the Spanish walk in a week and also shows great talent for piaffe, which he can demonstrate inhand. Alvarinho Interagro's father is Tufão Interagro, a very important breeding stallion who has demonstrated his ability to produce size, color, athletic ability and, most important, good character. Tufão Interagro was the 2008 national champion in 4th level and was named the 2009 champion in the Junior FEI® series at the Championship of Dressage between Clubs (CAI). Alvarinho Interagro, calm on the hack and very well-mannered, loves to perform, but also tries hard to please. Whether he works in the dressage competition ring as an exhibition horse or both, he will be a star wherever he goes! Alvarinho Interagro is well-suited for many riders and will be a joy in some lucky person's life!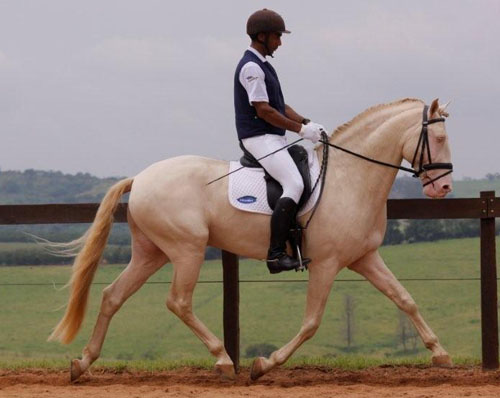 Photo: Tupa

The DVD of all horses under saddle will be sent upon completion to registered guests.
If you are having trouble seeing the video above, please update your flash player by clicking HERE.















Click on the tumbnails to enlarge the pictures

Approved as Stallion by the ABPSL