Sire: Quitar do Top
Dam: Obsessão do Top is daughter of Afiançado de Flandes (CQF) by Ufano II (MV) with Pistola (SQC) by Favonio (MV).
Artilheiro Dam's Progeny
Ultrajante do Top, by Ofídio do Top , 22/Dec/2000
Vendaval do Top, by Naperon do Top, 22/Nov/2001
Xerife do Top, by Navarro (AJR), 05/Dec/2002
Bisbilhoteira do Vouga, by Oceano (MV), 22/Nov/2005
Cachaça do Vouga, by Oceano (MV), 04/Dec/2006
Dear do Vouga, by Oceano (MV), 24/Nov/2007
About Artilheiro:
Artilheiro do Vouga is a friendly stallion with a sweet disposition and calm demeanor. This talented horse demonstrates three correct gaits, is well balanced and is able to perform the basic dressage exercises. Kind and intelligent, Artilheiro is motivated to work in the ring each day; therefore, he is showing consistent improvement in a short amount of time. For example, he is learning to carry himself and be more through his back. Artilheiro do Vouga has a soft mouth, is fun to ride and will be an enjoyable mount for anyone.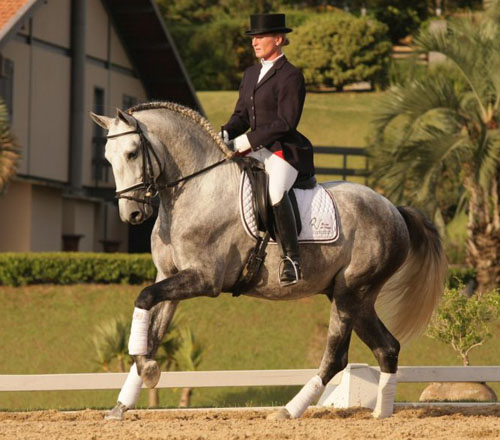 Photo: Tupa
Click on the tumbnails to enlarge the pictures
Approved as Stallion by the ABPSL