This wonderful young palomino colt has a single beauty with its exotic colour. Besides being a good horse under saddle, very easy and comfortable, he has a very sweet temperament and a generous character.
His sire is the famous Isabel Donaire (OI) by Quimono (AA), son of Imperador (FRM).
Dam: Lebrina (RFR) by Cantanhede (CB), son of the important breeding stallion Bailador (MV), has a good bloodline.
Damís Progeny: Runa do Castanheiro (01/19/98 by Distinto), Salvador do Castanheiro 03/13/99 and Trindade do Castanheiro 02/10/00 both by Malmequer; Zozimo do Castanheiro 12/11/03 and Aventureiro do Vouga 12/16/04 both by Donaire(OI); and Biju do Castanheiro (11/25/05 by Sol V.O.)
Trainer's Opinion: This sweet young horse is really intelligent!! He is able to learn very easily his training exercises. He always corresponds to the riderís requests, always happy and thinking forward! He is easy to ride, very soft on his mouth, with comfortable gaits; perfect for a beginner or an amateur rider.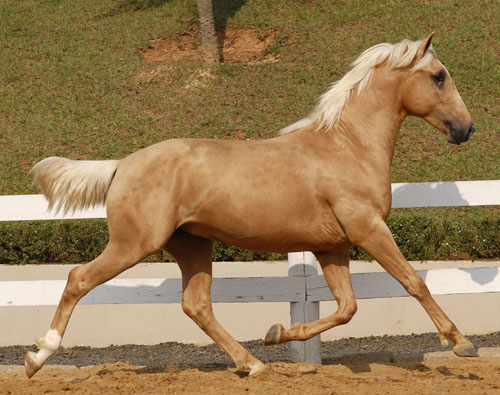 Photo: Tupa
Click on the tumbnails to enlarge the pictures