Sire: Fantasma (GS)
Dam: Serrana (MAC) is daughter of Hábil (MV) by Dardo II – IV (MV) with Legitima (MAC) by Distinto (MAC).
Azeite Dam's Progeny
Zapateira (MAC), by Jamaica (JNU), 26/Feb/2004
Coimbra do Vouga, by Oceano (MV), 10/Jan/2007
Dynamite do Vouga, by Ofensor (MV), 06/Jan/2008
About Azeite:
Azeite do Vouga is a handsome grey stallion with an excellent bloodline. The son of Fantasma (GS) with Serrana (MAC) by Hábil (MV), this proud and confident horse exhibits a sensitive temperament, kind character and excellent gaits. Showing a natural elasticity in his movement, he swings his hind quarters in a natural way. His trot already demonstrates excellent potential for extension. Light and elegant, this young stallion hasn't required any strong aids during his training. Azeite do Vouga is the perfect choice for a serious competitive rider.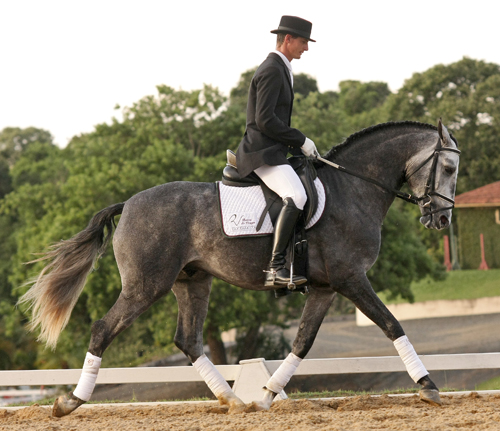 Photo: Tupa
Click on the tumbnails to enlarge the pictures
Approved as Stallion by the ABPSL