Sire: Perdigueiro (MAC)
Dam: Rabina (JNU)
Baluarte's Dam, Rabina (JNU), comes from the Coudelaria Núncio, founded by João Núncio, a most famous Portuguese bullfighter who rode and selected horses for the Coudelaria Veiga (MV). Because Núncio selected his Lusitanos based on exemplary behavior and performance in the arena, the Núncio mares are all from pure Veiga origin, come with an extremely high degree of consanguinity and are not available in the market place. Through a special concession from the Núncio family, Interagro is the only breeder to obtain a group of these treasured mares. These females are a valuable asset for any top level breeding program that can use the proper stallions to fully match their extraordinary genetic power and transmit it to their offspring. Interagro is very satisfied with the results obtained with these crossings; good examples are Berloque Interagro and Alcazar Interagro [Perdigueiro (Mac)x Lantejoula(JNU)], also offered at this Collection. Rabina, thus far, has an Interagro progeny of five. With his excellent and rare pedigree plus the athletic qualities described by the Trainer, Baluarte will be a fine stallion for any breeding program.
Interagro Dam's progeny:
Zoroastro Interagro by Perdigueiro (MAC) on 30/Sep/2003
Artaban Interagro by Perdigueiro (MAC) on 02/Oct/2004
Circe Interagro by Tufão Interagro on 13/Sep/2006
Decúrio Interagro by Tufão Interagro on 14/Aug/2007
Esteio Interagro by Tufão Interagro on 07/Sep/2008
Trainer's opinion
This beautiful, proud stallion is a blast to ride! Baluarte Interagro has a strong, confident character often seen in the offspring of Perdigueiro (MAC). Perdigueiro offspring have become collection favorites. Xenofonte Interagro and Ximenes Interagro sold in the 2006 collection; Zigoto Interagro sold in 2008 and in The 2009 Collection®, Perdigueiro offspring made a huge impression as Alcacer Interagro, Albatroz Interagro, Xenocrates Interagro and Acorde Interagro were sold. All of his sons are stamped with his vivacious personality. Another fine example of his father, Baluarte Interagro is energetic and willing. He is a strongly-built horse with good proportions. While this young stallion has moments of full-blown spirit, on other days, he is predictable, sweet and angelic. He does his best when presented with a consistent routine. When he is feeling effervescent, he may need to be ridden by the trainer first or by a more experienced rider. As Baluarte matures, he has the potential to make a very good amateur horse. When he is properly connected over his back, he has the feel of riding on a cloud! This chipper horse exudes personality, confidence and expression in everything he does. He will be easy to organize and keep balanced with his built-in forward engine and three quality gaits. Baluarte Interagro will catch your attention with his great expression and unusual eye!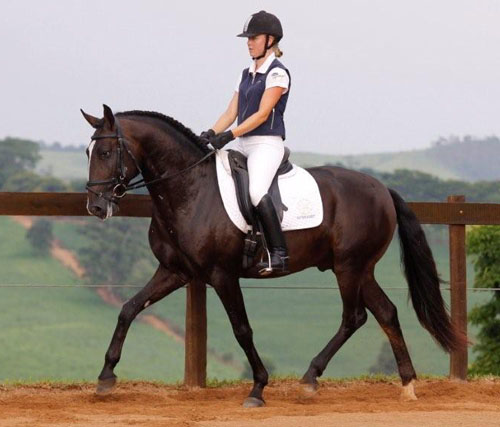 Photo: Tupa

The DVD of all horses under saddle will be sent upon completion to registered guests.
If you are having trouble seeing the video above, please update your flash player by clicking HERE.













Click on the tumbnails to enlarge the pictures

Approved as Stallion by the ABPSL