Sire: Oceano (MV)
Dam: Unica Forma do Top is daughter of Petroleo do Top by Eleito (MAC) with Radiacao do Top by
Afiançado de Flandes (CQF).
Rocas do Vouga Dam's progeny Progeny
Atlas do Vouga, by Oceano (MV), 27/Jul/ 2004
Cantiga do Vouga by Oceano (MV) on 10/Sep/2006
Dádiva do Vouga by Oceano (MV) on 25/Aug/2007
Escudo do Vouga by Violino (SS) on 15/Aug/2008
About Batalha do Vouga:
Batalha do Vouga is a lovely, young mare. A noble horse, she is willing and tries to please the rider. She is a daughter of the Portuguese stallion, Oceano(MV), a top-prized dressage horse in Brazil. Due to his success and genealogical importance, Oceano was exported back to Portugal two years ago; unfortunately, he died in 2009, thus relinquishing the position of main stallion from Veiga´s breeding in Portugal. The mother of Batalha do Vouga is Unicaforma do Top, mother of Atlas do Vouga, who is also participating in this year's Collection.
Trainer's opinion:
Batalha is so young and calm. She has three correct gaits, is easy to ride and responds promptly to the lightest aids. I recommend her for any level of rider.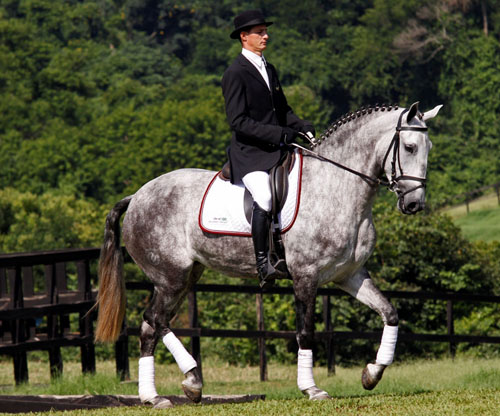 Photo: Tupa



If you are having trouble seeing the video above, please update your flash player by clicking HERE.