Sire: Profano Interagro
Dam: Sabina Interagro like Zero is also by Malga (MAC). Her sire is Noblíssimo and therefore Begônia has Cigana (MLC) - the most important founding mare in Interagro's lineage - twice in her pedigree.
Interagro Dam's progeny
Xinha Interagro by Perdigueiro (MAC) on 25-jul -2002
Abastado Interagro by Quilate Interagro on 13-sep-2004
Cassiopéia Interagro by Tufão Interagro on 07-dec-2006
Desdemona Interagro by Ofensor (MV) on 27-nov-2007
About Begônia:
Begonia Interagro is a beautiful mare with three correct athletic gaits. Her sire, Profano Interagro, has proven himself over and over by producing offspring with dependable temperaments and supple gaits for dressage competition. A perfect example of Profano Interagro's strong stamp on his offspring is Begonia who, at her young age, is already demonstrating her intelligence and eagerness to learn. This willing mare has a lovely sense of rhythm and tempo. Extremely easy to start, Begonia has shown a sensible character and brave personality. She is super on the hack. This light, sensitive, young mare has a lot of growing and filling out ahead of her, but her talent for dressage is noticeable. Begonia Interagro would be a good choice for many riders.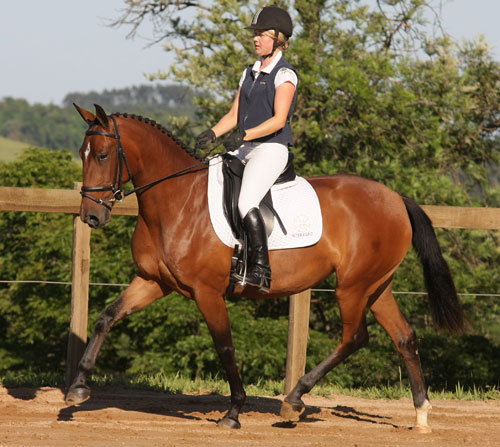 Photo: Tupa
Click on the tumbnails to enlarge the pictures