Sire: Nordeste (SS)
Dam: Uceda is a third generation Interagro lineage brood mare. Her mating with Nordeste (SS) was designed to preserve both the function qualities and the color factor of her pedigree.
Interagro Dam's progeny
Alamanda Interagro by Ofensor (MV) on 06-oct-2004
Corisco Interagro by Nordeste (SS) on 30-oct-2006
About Beth:
Beth Interagro is a lovely, iridescent, gold buckskin mare with alluring black-as-night markings. Comfortable to ride, willing to please and a fast learner, this likeable mare is already doing basic work under saddle. Beth has three correct gaits; the quality of her walk is super. This intelligent, receptive mare pays close attention to her rider and focuses on what is being asked of her. She enjoys going out on hacks when she isn't receiving lessons in basic ring work. A clever mare with an engaging personality and agreeable attitude, Beth has gently and quietly climbed onto the front wall to take a peak over the top to see if the barn help was getting her dinner ready! Beth Interagro was shown in the prestigious International Lusitano Show in São Paulo, Brazil, and was awarded sixth place out of approximately 40 competitors in her conformation class. A mare suitable for many levels of riders, Beth shows great promise as a dressage horse.
1st Class – 1 year old PSL Fillies – Conformation Class – 6th Place at the XXVI International Lusitano Show (May, 2007) São Paulo, Brazil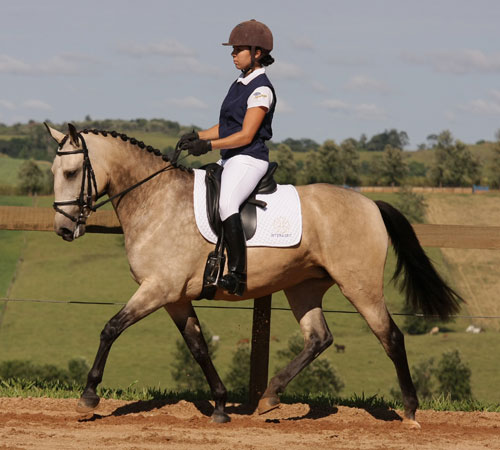 Photo: Tupa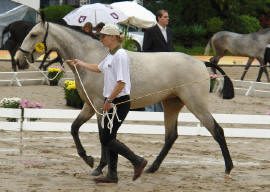 XXVI International Lusitano Show (May, 2007) São Paulo, Brazil
Click on the tumbnails to enlarge the pictures