Sire: Quixote Interagro
Dam: Temática Interagro
Bizet's Dam, Temática Interagro (Legendário do Mirante x Malagueta do Mirante], is another mare exhibiting one of the most highly sought-after pedigrees in the Lusitano world. Her sire, Legendário do Mirante, is one of the most important sons of Novilheiro (MV). A full description of Legendário and his lineage can be found in the book, "The Lusitano Horse – Basic Lineages," on our Website. Tematica's dam, Malagueta do Mirante, is an outstanding daughter of Cigana (MLC), the most important Founding Mare of the Interagro Lineage (See "The Lusitano Horse – Basic Lineages"). Temática Interagro has produced an Interagro offspring of four, thus far. Bizet Interagro was one of the young stallions selected to cover Interagro mares in the 2008 season, and his newborn babies show very promising qualities. Considering his pedigree, his offspring and his qualities mentioned in the Trainer's Opinion, Bizet Interagro can be considered a promising stallion for any first-class world-wide Lusitano breeding program.
Interagro Dam's progeny:
Zenith Interagro by Ofensor (MV) on 22/Sep/2003 (Exported to USA)
Coquette Interagro by Quixote Interagro on 21/Aug/2006
Diplomata Interagro by Quixote Interagro on 29/Oct/2007
Entoria Interagro by Xelim Interagro on 12/Oct/2008
Trainer's opinion:
Bizet Interagro is a perfect example of the beauty his father, Quixote Interagro, passes on to his sons. Dignified and proud beyond his years, Bizet Interagro was approved with a 74.5% score; the highest score awarded for the November 2009 stallions' revision . Bizet Interagro is a natural athlete with correct gaits and a regal presence. At his young age, he is already showing great bone and size. Although he is a sweet horse in the barn and graceful under saddle, he is capable of showing stallion behavior. Not a horse for the weak of heart, he will be best suited for the experienced equestrian. Like his half brothers, Bizet loves to jump and shows great ability for the discipline. His great grandfather on his dam side is the famous Novilheiro who jumped very successfully in the Grand Prix Division internationally under John Whitaker. Brave and confident, Bizet Interagro likes to go out on a hack. Uniquely clever, he has learned to get everyone's attention in the barn by making funny faces! Bizet Interagro is equipped with the whole package: magnificent looks, correct gaits, good conformation, impressive bloodlines and high intelligence! He is an excellent competitive prospect with a proven pedigree and the right qualities for a stallion program.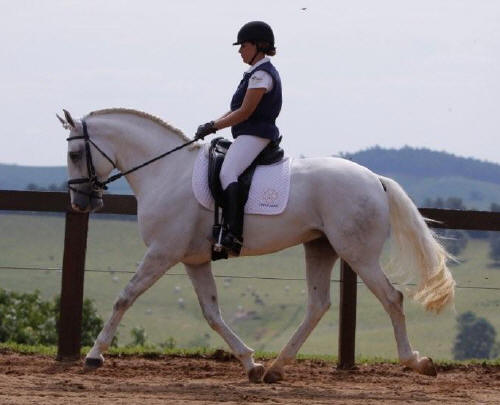 Photo: Tupa



If you are having trouble seeing the video above, please update your flash player by clicking HERE.




















Click on the tumbnails to enlarge the pictures



Bizet's foal Fariseu Interagro out of Ona Interagro



Bizet's foal Filamon Interagro out of Questa Interagro
Approved as Stallion by the ABPSL