Sire: Nordeste (SS)
Dam: Vega Interagro
Black Tie Interagro's dam, Vega Interagro [Profano Interagro x Melita (PR)], brings the important Firme (SA)/Nilo (MV)/Novilheiro (MV) lineage from Profano Interagro and the Quina (CI) bloodline from Melita (PR), a daughter of Visqueiro (CI). These crossings include the combination of functional lineages explained in the commentaries for Agamemnon and Apocalipse Interagro and the strengthening of the consanguineous participation of the Firme (SA) heritage. Black Tie is the oldest of the Interagro progeny of four produced by Vega Interagro, thus far. The pedigree and the trainer's opinion for Black Tie suggest a bright future for this young horse, as a breeding stallion and as a competitive athlete.
Interagro Dam's progeny:
Crisador Interagro by Quínio Interagro on 23/Sep/2006
Dorva Interagro by Nordeste (SS) on 20/Sep/2007
Enrustida Interagro by Richebourg Interagro on 22/Oct/2008
About Black Tie Interagro:
Trainer's opinion
Black Tie is beautiful, extremely athletic and full of personality. His lovely gaits and trainability will make him a pleasure for his future owner. We learned that this stallion has a strong propensity for jumping when we began to free-work him through a grid of jumps. Evidently bored with our normal routine, Black Tie entered the grid from a middle point which set up a difficult attempt to jump out, but Black Tie did it with success. In fact, Black Tie likes to jump so much that he often won't stop. This good-natured, brave stallion finds his flat work equally as easy and clearly likes to show off. His jumping ability isn't surprising, given his amazing bloodlines through Nordeste (SS) . Nordeste's grand sire fathered the very famous jumper, Novilheiro (MV), a stallion who competed at the highest level in show jumping. Like Novilheiro, Black Tie behaves like a super star! He loves people, loves a good hack and is a great companion in the barn. Clever, creative and inquisitive, he will try to steal your heart. If you are looking for a talented sport horse who can relate well to people, Black Tie might be your ticket. Because of his superb character, Black Tie will be suited for a wide range of riders.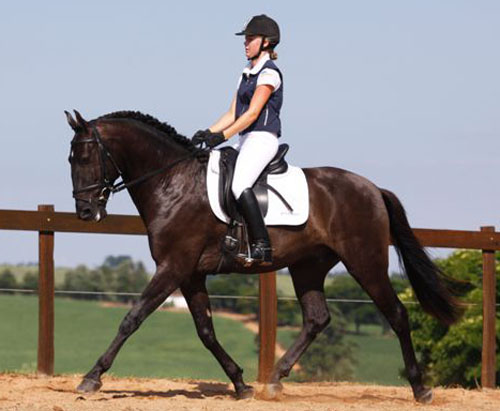 Photo: Tupa



If you are having trouble seeing the video above, please update your flash player by clicking HERE.















Click on the tumbnails to enlarge the pictures

Approved as Stallion by the ABPSL