Sire: Perdigueiro (MAC)
Dam: Vicunha Interagro
Boicote's dam, Vicunha Interagro (Quinarius Interagro x Porfia Interagro), combines the Xique Xique (CI) Quina bloodline with a high Andrade (SA) contribution from both Quinarius and Porfia Interagro, thus producing a pedigree with strong functional character. Boicote is the oldest of Vicunha's Interagro progeny of three. Porfia Interagro has, thus far, an Interagro progeny of eight exceptional individuals. The use of Perdigueiro (MAC) for this mating opens up a bit the close consanguinity of Vicunha Interagro which introduced the Veiga lineage into the picture, apparently with good results.
Interagro Dam's progeny:
Cortona Interagro by Nirvana Interagro on 22/Sep/2006
Esquiva Interagro by Perdigueiro (MAC) on 18/Sep/2008
Trainer's opinion:
Boicote Interagro is an expressive and energetic horse that exudes confidence while enchanting his rider. Because of his bone structure and conformation, he appears much bigger than his size. His father, Perdigueiro (MAC), generally passes on a strong, dignified attitude to his offspring, and Boicote is no exception. Not only does Boicote possess a majestic body type that we see so much in the historic vision of the Iberian horse, this stately stallion inherited a more classical look in his gaits with a bit more action tossed in for good measure. His uphill frame and bouncy, full-of-spark stride will make you forget this horse is only four-years-old! His canter is one of the best in the whole collection! Comfortable to ride and easy to keep properly in the contact, Boicote can be a handful of exuberant energy after a day off, so he would need an experienced rider to manage those moments. He is good on the hack and does not demonstrate negative stallion behavior. Quick to settle into change, this happy horse rolls with the program. Boicote Interagro deserves to be a king in someone's world!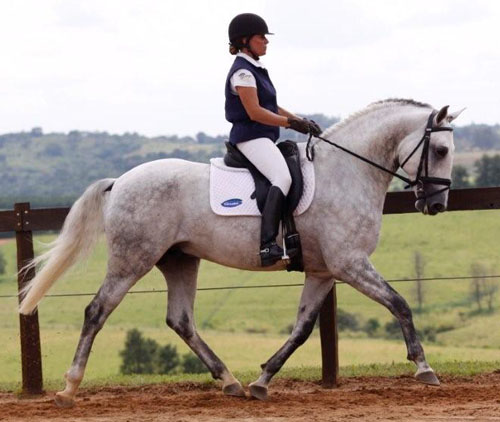 Photo: Tupa



If you are having trouble seeing the video above, please update your flash player by clicking HERE.












Click on the tumbnails to enlarge the pictures

Approved as Stallion by the ABPSL