Sire: Quínio Interagro
Dam: Mariquita Interagro
Brioso's dam, Mariquita Interagro [Vidago (SA) x Estúpida (SA)], is a pure Andrade (SA) mare. Her sire Vidago (SA) is a renowned stallion with a large offspring of highly functional descendants, including Cyclope (SA), one of the Interagro Founding Mares. With Quínio Interagro, a son of Cyclope (SA), a close consanguinity on this exceptional mare was introduced with the objective of enhancing the exceptional athletic qualities of the (SA) lineage with the Quina (CI) contribution of Xique Xique (CI). Mariquita Interagro left an Interagro Offspring of six. The Trainer's Opinion reflects the success of this crossing.
Interagro Dam's progeny:
Romaneira Interagro by Yacht (SA) on 31/Oct/2007
Tabu Interagro by Yacht (SA) on 25/Dec/1999
Ubtuso Interagro by Obtuso Interagro on 16/Dec/2000
Venderora Interagro by Yacht (SA) on 15/Dec/2001
Catilena Interagro by Nirvana Interagro on 06/Oct/2006
Delicada Interagro by Tufão Interagro on 03/Oct/2007
Trainer's opinion:
A look at Brioso Interagro's photos tells it all! This gorgeous horse can do anything. Given his overall athleticism, winning attitude and three correct gaits, he has the talent for multiple disciplines. Agile as a sleek sports car, he is a powerfully-built horse with great elasticity throughout his body. Willing and able, Brioso loves to hack, loves to jump and, basically, just loves to work. A comfortable horse to sit, he meets challenges easily. It will be important to strengthen his topline, thus keeping his lower neck from become too overbearing. Well-suited for many riders, Brioso will need an active program to keep him occupied. The possibilities for this talented stallion are huge!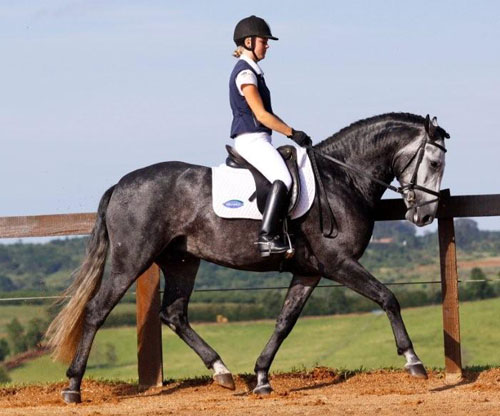 Photo: Tupa



If you are having trouble seeing the video above, please update your flash player by clicking HERE.











Click on the tumbnails to enlarge the pictures

Approved as Stallion by the ABPSL