Sire: Nordeste (SS)
Dam: Xuesta Interagro
Cambraia's dam, Xuesta Interagro (Quínio Interagro x Questa Interagro) is a fine example of the Interagro Mare: her sire Quínio comes from Xique Xique (CI) x Cyclope (SA), both respectively, founding stallion and founding mare of the Interagro lineage as demonstrated in the above mentioned book about the lineages. Questa Interagro, Xuesta's dam comes Lágrima do Mirante [Xique Xique (CI) x Janota (OS)] and Danúbio (MV), one of the most renowned Lusitano stallions of all times. In sum, Cambraia possesses an excellent pedigree with desirable consanguinity on Xique Xique (CI), one of the top stallions of the Lusitano breed. To date, Questa has an Interagro progeny of eight and the younger Xuesta of two, all of them very correct horses. Given the significant quality of Cambraia's pedigree, her maternal ancestors' fertility and the outstanding abilities described in the Trainer's comments, this young female has the credentials to be a high-performing athlete and a top producer.
Interagro Dam's progeny:
Domaine Interagro by Xerxes Interagro on 20/Jan/2008
Elusiva Interagro by Faraó (JHC) on 24/Dec/2008
Trainer's opinion
This three-year-old elegant mare has won our hearts with her lovely, willing attitude and confidence. Cambraia Interagro's training program has included a variety of experiences, from hacking across the farm to basic flat work. A pleasure to ride and train, this intelligent mare is graceful and sensitive without being nervous. Her coordination and athleticism is very clear when you ride this compact mare. When Cambraia Interagro was introduced to ground poles in the jumping grid, she immediately figured out the whole process and needed little encouragement. Completely confident and obviously natural, she jumped a couple of times before we began to photograph her. Cambraia Interagro finds jumping as much fun and as easy as her half brothers, Black Tie and Black Stone. Her pedigree will also be a great asset to her future home. Nordeste (SS) on her top line and Quinio Interagro on her dam line is quite an exciting combination. We are confident that she has multiple possibilities of what she will be capable of accomplishing in her future. Cambraia Interagro, with her temperament, gaits, looks, pedigree and jumping ability, is a jewel of a mare!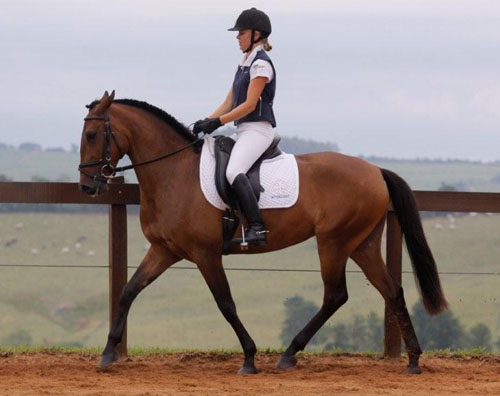 Photo: Tupa


If you are having trouble seeing the video above, please update your flash player by clicking HERE.












Click on the tumbnails to enlarge the pictures