Pedigree & breeding information
It has always been Interagro's policy to limit mares sold to not more than two or three per year. Like many traditional Lusitano breeders, we give a high priority to the preservation of our lineage and to assure that this goal is attained, we adopt this posture as the best, if not the only way, to assure our objective. To meet the increasing demand for mares under saddle, we agreed to train a few mares who were chosen for their combinations of rideability, athleticism, and pedigree. Capoeira Interagro whose bloodlines are available on the pedigree below fulfills these criteria. She has the athletic qualities described above and an excellent pedigree from functional lines. Her dam, Ociosa Interagro meets these selective criteria: Ociosa Interagro has a progeny of 12 very talented individuals, including Beato Interagro, the price record of the 2010 Collection. It will be very difficult, for any interested buyer, to find a broodmare of this caliber anywhere else.
Interagro Dam's progeny:
1998 - Sagitário Interagro by Noblíssimo Interagro
1999 - Teseo Interagro by Noblíssimo Interagro
2000 - Ugala Interagro by Nicola (MAC)
2001 - Velário Interagro by Legendário do Mirante
2002 - Xoci Interagro by Nicola (MAC) – exported to Paraguay
2003 - Zago Interagro by Quixote Interagro
2004 - Abdera Interagro by Nicola (MAC)
2005 - Beato Interagro by Quínio Interagro - sold at The 2010 Lusitano Collection
2007 - Dengosa Interagro by Perdigueiro (MAC)
2008 - Engenheiro Interagro by Perdigueiro (MAC)
2009 – Feiticeira Interagro by Zíngaro Interagro
Trainer's Opinion by Heather Bender
Capoeira Interagro is the only mare offered by Interagro in this Collection. Capoeira Interagro is a wonderful mare and is a pleasure to deal with in all situations we have encountered. She is easy around the barn to groom, good in the stable and always displays an amiable attitude. She loves to go out on the hack and has spent a huge amount of her training time riding across the fields at Interagro. She is a reliable horse that can give her rider confidence. This kind mare is much more mature than her young years reflect. She is very uncomplicated to ride and gives her rider a joy and sense of ease. This mare is a lovely choice for riders at many different levels. She will easily adapt to each riders skill and always aims to please.
Click on the links at the pedigree below to know more about the ancestors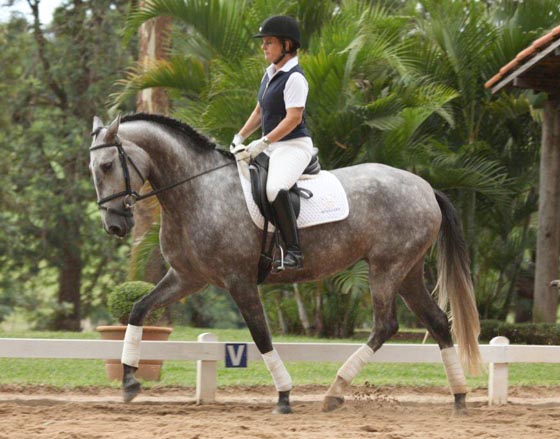 Photo: Tupa