Breeding & pedigree information
To give a more complete evaluation about this young stallion's breeding potential it is important to call attention to his two Andrade grand-mothers, Cyclope (SA) and Kipper (SA), two of the most important "Founding Mares" of the Interagro lineage. The latter, Kipper (SA), a prolific broodmare has an Interagro progeny of seventeen! Among the extraordinary sons and daughters of Kipper (SA) are some of the best mares in our Selected Group of Interagro Brood Mares, like Nora, Quitéria, Upiki, Virgo, and Xixa Interagro. Cerberus' sire, Quínio Interagro is one of the top five stallions in the Interagro program, having so far, a progeny of 103 sons/daughters. The price record in the 2010 Collection, Beato Interagro, was a son of Quínio. For these, and many other reasons which cannot be discussed in this short space, we strongly recommend this young stallion for reproduction.
Interagro Dam's progeny:
2007 – Doca Interagro by Nordeste (SS)
Trainer's Opinion by Heather Bender
Cerberus Interagro is gorgeous! This very sweet, young stallion started out shy and developed confidence in his training program. We have enjoyed watching his confidence soar with every day of training. Cerberus Interagro is a quiet horse who looks to his handler for his confidence. He will probably be best suited with a quiet rider who is well grounded. In that scenario he will be a star. Cerberus Interagro will blossom into a great beauty and very talented horse well suited for Dressage or any sport horse endeavor. Many of Quínio's sons also have shown very good talent in jumping. He is easy to be around and enjoys the hack without displaying any stallion behavior. This beauty is for sure the answer to someone's dreams! We feel we have not yet even scratched the surface of Cerberus Interagro's potential.
Click on the links at the pedigree below to know more about the ancestors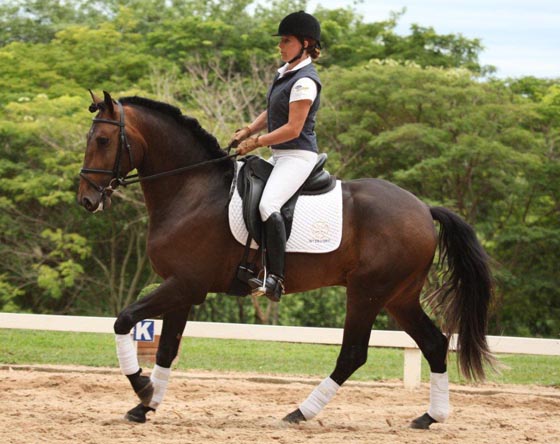 Photo: Tupa