Breeding & pedigree information
This young bay stallion has a noteworthy, rare pedigree, combining the most renowned dressage lines the Lusitano breed has produced. His sire – one of the most important stallions in our breeding farm, has, so far, an Interagro progeny of over one hundred extremely functional and beautiful individuals. His dam, Odalisca (RC), was one of the Toleirona (MV)'s family mares ceded by Arsênio Cordeiro to Interagro to solidify the Firme (SA)/Nilo (MV)/Novilheiro (MV) line of superior horses; a strain that was extensively used in developing the Interagro Lineage. Odalisca (RC) has, so far, an Interagro progeny of ten; her son Xisto Interagro was sold in the 2008 Collection. If you or your farm needs a star stallion, Corsário Interagro may be the right one for you. This is a great example of a Lusitano bred to be a dressage horse.
Interagro Dam's progeny:
2000 – Teimosa Interagro by Neopus (PFC)
2001 – Vistosa Interagro by Quilate Interagro
2002 – Xisto Interagro by Quínio Interagro – sold at The 2008 Lusitano Collection
2003 – Zaragoza Interagro by Profano Interagro
2004 – Afinado Interagro by Quilate Interagro – exported to the USA
2005 – Brilhante Interagro by Profano Interagro
2008 – Egoísta Interagro by Perdigueiro (MAC)
2009 – Ficante Interagro by Arges Interagro
Trainer's Opinion by Heather Bender
Corsário Interagro could be a dream horse for an ambitious rider with big goals. This tall, elegantly beautiful horse already shows an enormous talent and winning presence to be a future Grand Prix dressage horse. He truly offers the whole package: gaits, presence and good size - the recipe for a winning combination with the right training. He has been maturing right before our eyes. Corsário Interagro is amazingly well organized considering how much he has been growing and filling out. Every time we put a stick to measure him, he is another quarter inch bigger. His balance with elastic quality gaits is nothing short of impressive. Corsário Interagro is the horse for anyone who wants a serious quality horse. He is sensitive and forward and will be best matched with a rider who has the experience to help him achieve his full potential. Corsário Interagro is likely to reach 17 hands and as his father's progeny exemplifies, he has a great go button and the grace of a cat!
Click on the links at the pedigree below to know more about the ancestors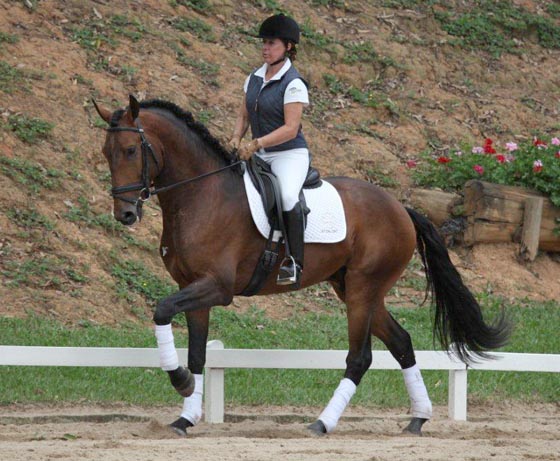 Photo: Tupa