Sire: Marfim do TOP was exported to USA as a sport horse and acts as a breed stallion in America.
Dam: Notória do Mirante is daughter of Estupendo (RC), by Venturoso III (MV) with Xícara (RT), by Maravilha (MV). She was awarded with gold medal 6th place on the XXI International Lusitano Exhibition in 2002. In 2006 she won 6th place gold medal on the XXV International Lusitano Exhibition. Also Notoria was 2nd place on the Purebred Lusitano Festival 2006, 3rd place gold medal on the XXVI International Lusitano Exhibition in 2007 and 1st place Gold medal and reserved Champion of the Champions on the XXVII International Lusitano Exhibition in 2008.
This broodmare had produced many good Sport horses that were exported to USA as Taberneiro do Vouga and Xavante do Vouga, this on Grand Prix level. Also produced Zazá do Vouga that was awarded with 1st place gold medal and Champion of the Champions Young Mare on the III Purebred Lusitano Festival en 2006. In 2007 she won 1st place gold medal on the XXVI International Lusitano Exhibition. Now Zaza is part of Rocas do Vouga's Dressage Team. Ulysses do Vouga and Atlantico do Vouga are also competition horses of Rocas do Vouga Dressage Team.
Vida Dam's Progeny
Pachola Interagro, by Idiota III (BF), 11/Nov/1995
Quartel do Vouga, by Tuim (CN), 16/Oct/1996
Taberneiro do Vouga, by Nero, 01/Aug/1999 (sold at The 2005 Lusitano Collection)
Ulysses do Vouga, by Maracanã do Top, 01/Dec/2000 (Rocas do Vouga's Team)
Xavante do Vouga, by Quartzo (RC), 03/Nov/2002 (exported to USA in 2005)
Zazá do Vouga, by Quartzo (RC), 16/Oct/2003 (Rocas do Vouga's Team)
Atlântico do Vouga, by Oceano (MV), 26/Sep/2004
Breijoeira do Vouga, by Oceano (MV), 05/Sep/2005
Castiça do Vouga, by Toleirão da Broa, 31/Aug/2006
Dinasty do Vouga, by Toleirao da Broa, 01/Sep/2007
About Vida:
Vida do Vouga is a sweetheart of a mare with a pretty head, a happy personality and a friendly eye. Lovely to ride, she has a consistent and even temperament – not like a typical mare at all! Soft in the mouth, she is also sensitive to the rider's leg and responsive in every way. Vida displays three correct gaits, is well balanced and offers a smooth ride. This sweet mare can perform all of the basic dressage movements and has also been trained for show jumping, having jumped up to 1.20m (3 ft) in competitions. In dressage, Vida is starting lateral movements and flying changes. A top horse in multiple disciplines, Vida do Vouga can easily be ridden by an amateur rider of any age!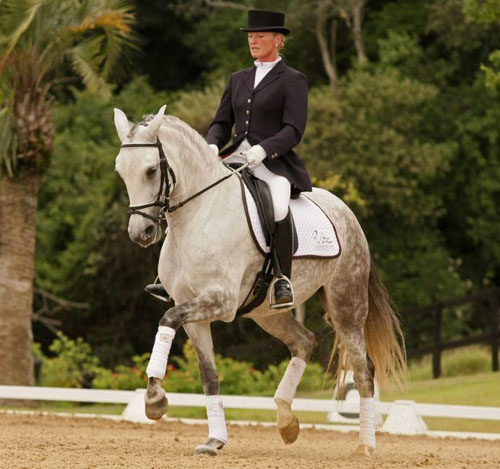 Photo: Tupa
Click on the tumbnails to enlarge the pictures