Xairel do Mito is another young stallion bred by Mito Lusitano Stud Farm, with a highly refined genetic potential.
His sire Oceano is a Grand Prix Dressage horse and was Champion of the Champions of the 23rd International Lusitano Horse Exhibition in Brazil, 2006. His dam Nevada won gold medal on the 2006 Exhibition. Xairel is the result of an inbreeding that really worked out.
Xairel has a very solid dressage starting, he is very pleasant to ride, has a good balance, rhythm and flexibility besides his beauty and notable character.
Dam: Nevada's sire, Danubio III, is soon of Zimbro II by Nilo and her dam Zarzuela is daughter of Nilo. Nevada won the 5th place gold medal at the XXII International Lusitano Exhibition in 2003. In 2005 she was awarded with the 5th place (5th category) at the II Purebred Lusitano Festival. In 2006 Nevada won the 4th place gold medal at the XXV International Lusitano Exhibition and she was Champion of the Champions Gold medal at the III Purebred Lusitano Festival.
Dam's Progeny: Xairel do Mito 03/01/03, Astro do Mito 08/10/04 and Baioneta do Mito 09/08/05 all three with Oceano (MV), and Defender do Mito 09/09/07 [by Ofensor (SS)]
Trainer's Opinion: One of the most advanced horses in training of this Collection. Xairel is very good and easy to ride, has a calm temperament and has very well defined gaits. He has been training some lateral movements in walk and trot; and on canter, he is starting exercises of counter-canter. This is a horse that anyone can ride and enjoy!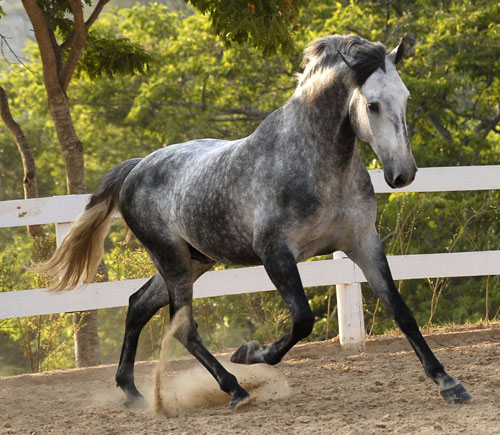 Photo: Tupa
Click on the tumbnails to enlarge the pictures