One of the stars of this Collection, this young horse combines a striking beauty, a remarkable character and presence with a fabulous pedigree. He is clearly one of the best movers of the Collection.
Approved as a Stallion by the ABPSL – Associação Brasileira do Puro Sangue Lusitano.
Sire: There is an absolute consensus among the breeders in Brazil and Portugal that his father Ofensor (MV) is not only the best Lusitano stallion alive but also that he will undoubtedly become one of the top stallions which the breed ever produced.
Dam: Zínia (CQF) imported from Portugal because of her blood composition which brings together some Alter Real (AR) with the Quina (CI) lineage. Our assumption that her crossing with the Danúbio (MV) line would result in oustanding dressage horses seem to have been confirmed by her offspring including this nice and promising young stallion Xantel Interagro.
Dam's Interagro Progeny: Pertinaz [Faraó (JHC), 03/28/96]; Samurai (Noblíssimo Interagro 08/22/98) Thor [Visqueiro (CI), 12/11/99], Xantel (11/08/02) and Baggins (09/29/05), both with Ofensor (MV).
Trainer's Opinion: This majestic, lightest of the grey stallions, almost white, is clearly one of the exciting `movers´ of the collection. Xantel has the whole package: `3 gaits´ and the "look" to be a star in the dressage competition ring. This horse is a serious competitor for the future. He is very well started in his basics and naturally finds the dressage work very easy. This Stallion has offered passage and piaffe and certainly possesses a natural talent for these advanced movements. He also demonstrates great reach and pushing power to have explosive extensions. Xantel with his Veiga blood, strong mind and super intelligence will not be for the 'faint of heart.' He will need a trainer who will be clear, logical and patient with their approach. He is extremely talented with a proud attitude. This horse would be a good choice to leave as a stallion, with his super blood lines and talent, but if he was gelded he would still need a confident advanced rider to reach his potential.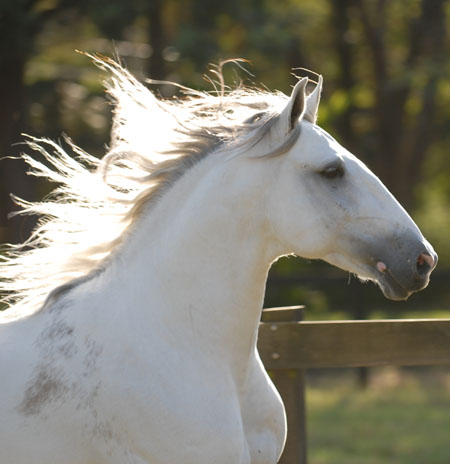 Click on the tumbnails to enlarge the pictures