Sire: Quixote (SS) by Invulgar (JHC) and his dam Pirata (SOR) by Pagode (CI), demonstrating the selection of Lusitano sport horses.
Dam: Pirata (SOR) is daughter of Pagode (CI) by Guapo (MV) with Bailarina (AP) by Maravilha (MV).
Xeque Dam's Progeny
Uno (SOR), by Quartzo (SOR), 21/Apr/2001
Zaire (SS), by Oásis (CVG), 04/Mar/2004
About Xeque (SS):
Xeque (SS) is one of the most advanced dressage horses in the Collection. A skillful mover, Xeque has a willing temperament and outstanding physical strength. This young stallion is consistently improving in his dressage training by effortlessly executing the basics and lateral movements in a very natural and balanced way. Xeque exhibits three correct gaits that show collection; his canter is especially rhythmic and strong. Because of his remarkable ability, we have introduced flying changes, pirouettes, piaffe and passage movements into his training. Although Xeque (SS) is ideally a professional competitor's horse, he can easily be ridden by an amateur.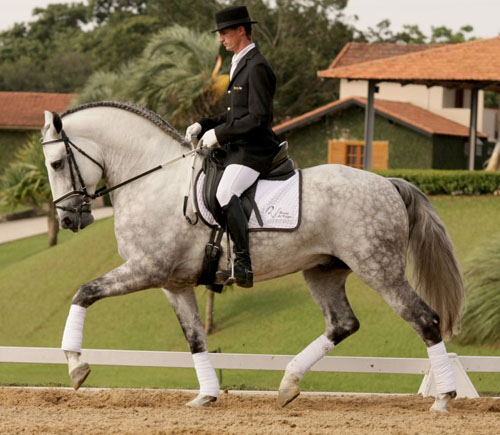 Photo: Tupa
Click on the tumbnails to enlarge the pictures
Approved as Stallion by the ABPSL