This beautiful young horse of excellent pedigree is a fantastic promise as a future dressage champion, a true find for those who want a top professional's mount. All his superb functional qualities are matched by the most rare and excellent pedigree: the genetic power and value of his sire Ofensor (MV) is an extraordinarily valuable asset as can be seen in the link bellow.
Approved as a Stallion by the ABPSL – Associação Brasileira do Puro Sangue Lusitano.
Sire: Ofensor (MV)
Dam: Mucuna Interagro [by Bronze (BF) and Capicua (MLC)] is also a preciosity: Capicua (MLC) is the dam of the Brazilian Dressage Champion Nirvana Interagro as well as of Montezuma do Mirante another dressage champion exported to Australia.
Dam's Interagro Progeny: Sargon Interagro [by Noblíssimo Interagro] exported to the U.S. where he is achieving excellent results ridden by Heather Bender; Tomista Interagro [by Legendário do Mirante]; Ultrajado and Borgia Interagro [both also by Noblíssimo Interagro ]; Vilna Interagro [by Quínio Interagro]; Cézanne Interagro [by Nirvana Interagro ]. Zamorin Interagro [by Quinárius Interagro ] and XORRO INTERAGRO.
Trainer's Opinion: This horse is a true WOW! Xorro is the professional competitor's horse! This horse has the 'stuff' it takes to move up the levels of dressage quickly. It's impossible not to be impressed when you see him move, great reach and power but still showing the ability to carry his power and develop collection. He finds correct ½ steps easy and loves to show his extended trot and canter too. He shares the same mother and many similarities to the very successful FEI horse ridden by Heather Bender, Sargon Interagro, owned by Louise Pinto. He will quickly remind you of Sargon Interagro when you see him. Xorro has a beautiful shoulder and active hind leg to match. He has loads of bone and muscle even though he is not mature and will not reach his true size until 8 years old. This is a very strong minded horse that will definitely need an advanced rider and trainer. He is all stallion, for sure! Xorro with Johnny, his current trainer, competed at the São Paulo Equestrian Club. Xorro was very focused and well behaved at the competition. In an experienced environment he will thrive and be a star!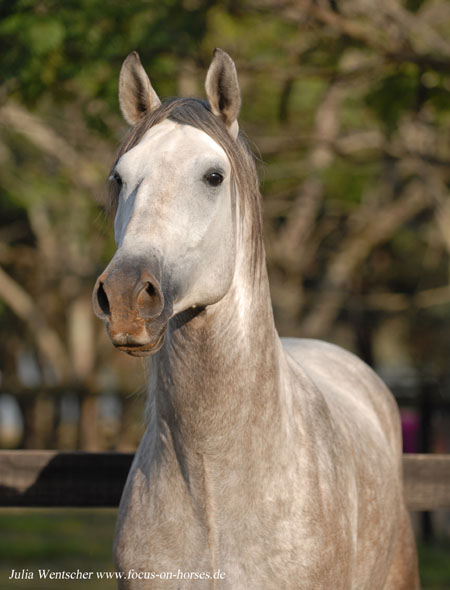 Click on the tumbnails to enlarge the pictures