Sire: Quartzo (RC)
Dam: Estrela III (JHC)
Rocas do Vouga Dam's progeny:
Rapariga do Vouga by Hino (RC) on 08/Oct/1997
Tererê do Vouga by Dragão II (SA) on 13/Nov/1999
Ula do Vouga by Luar (SS), on 14/Dec/2000
Vaidade do Vouga by Donaire (OI) on 25/Nov/2001
Zagaia do Mito by Quartzo (RC) on 25/Dec/2003
Aveiro do Mito by Oceano (MV) on 05/Nov/2004 (Sold at The 2009 Lusitano Collection)
Crema do Mito by Quartzo (RC) on 19/Nov/2006
Diamond do Mito by Xadrez (SS) on 06/Nov/2007
About Xumaço do Vouga:
Xumaço do Vouga is a powerful, gentle and beautiful stallion specifically selected for this year's Collection. Xumaço's father, Quartzo, is a champion stallion in conformation class and dressage and an important Portuguese "Isabel" stallion with a vastly popular production in Brazil. Xumaço's mother, Estrela, produces great movers every year at Rocas do Vouga.
Trainer's opinion:
Xumaço is a pleasant horse with a powerful body that gives the rider a special feeling in the saddle. His light movements and aptitude to learn demonstrate his promise as an excellent sport horse. He is ready to start competing on dressage tests.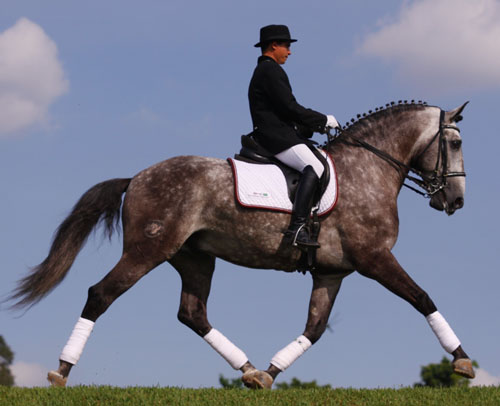 Photo: Tupa



If you are having trouble seeing the video above, please update your flash player by clicking HERE.












Click on the tumbnails to enlarge the pictures
Approved as Stallion by the ABPSL