Sublime! This is the best adjective for this beautiful grey Lusitano horse.
Rocas do Vouga Stud Farm offers this young stallion on this Collection, which is a refined bloodline from one of the most important Lusitano breeders in the world, the Quinta da Broa Stud Farm, owned by the famous breeder Manuel Veiga.
He was imported still on his mother womb, Seda da Broa, in 2003.
Zap do Vouga is an exemplary Lusitano that brings the most pure essence of Lusitano Race, which encompasses quality movements, beauty, and character, besides his special genetic features that qualifies him as a breeding stallion for the race.
Zap is a powerful horse under saddle, very self confident and has a natural balance, really pleasant for the rider.
Dam's Progeny: Zap do Vouga (by Trevo 03/25/04), Broa do Vouga 07/27/05 and Cotton do Vouga 01/18/07 both with Oceano (MV).
Trainer's Opinion: Zap is a very special horse, very pleasant to ride, with good gaits and mind. His trot and canter are excellent, with nice amplitude and rhythm. He also has a natural extended trot. He is very intelligent and learns easily the training exercises, with a lot of self confidence.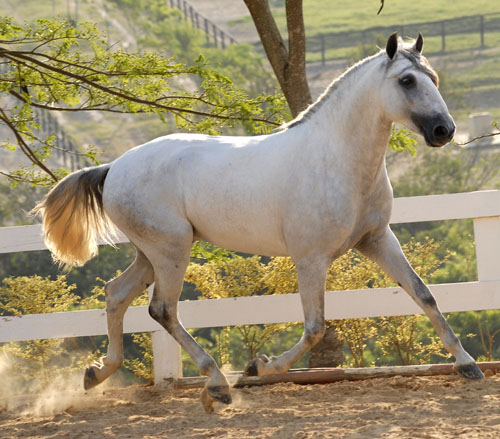 Photo: Tupa
Click on the tumbnails to enlarge the pictures