No breeding related data will be given for gelded animals considering that they will not obviously be used for stud activities.
Sire: Quixote Interagro
Dam: The dam, Estrelada (JLC) is a Quina (CI) mare imported from Portugal. The combination of the extremely functional genealogies of Danúbio II (MV) [Quixote Interagro's sire] with the Quina (CI) lineage was one of the great successes obtained by the Interagro selection program regarding the breeding of competitive horses, Zerbino being one of these.
Dam's Interagro Progeny: Pixote Interagro [by Ribatejo (MAC); Reticente Interagro [by Distinto (MAC)]; Sedutor Interagro [by Yacht (SA)]; Úrica and Valquiria Interagro [both by Visqueiro (CI)]; Xanadu Interagro [by Quínio Interagro ] and ZERBINO.
Trainer's Opinion: This elegant gelding was also started in driving, but Pia Aragão and Heather Bender stole him from the Interagro's driving trainers when they found Zerbino Interagro. The driving trainers now get nervous when they see both watching them. Zerbino was so attractive and the right type mover for the 2008 collection we wanted to bring him to Florida. We have been really happy with his progress even with his late start under saddle. This is a very pretty horse with 3 good gaits and lots of athletic ability. He has a lovely face and eye. His expression matches his sweet natured. He has always been a bit of a 'looker' but as he gains more experience he has improved and become much more confident. He is another naturally well balanced, well put together horse that is on his way in his training program. Zerbino is showing very consistent improvement in a short time. This horse shows good potential for many riders but is still of course considered 'green' and will need a consistent program.
Fun note to remember: Zerbino has had a successful start in driving and could easily go on to driving or riding or both!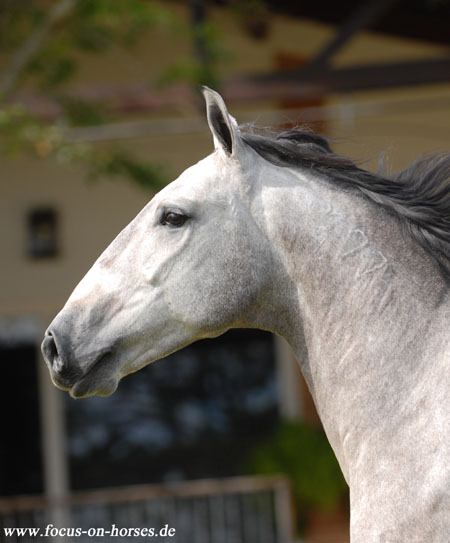 Click on the tumbnails to enlarge the pictures