Breeding & pedigree information:
Zombado, a fantastic Lusitano stallion, is another son of the South American Dressage Champion "Isabel" stallion Quartzo (RC), sire of so many horses in Brazil and many horses exported to the USA. Zombado's dam, Lantejola, imported from Portugal, is the daughter of the internationally famous Novilheiro, Whitaker's (UK) Grand Prix jumping horse. A vivid stallion with an impressive pedigree, Zombado do Vouga has always been a top class horse at the shows.
Rocas do Vouga Dam's progeny:
1996 - Prendada by Justiceiro (RC)
1997 - Que-Justiça do Retiro by Jaguar (RC)
1998 - Sissi do Retiro by Dardo II (MV)
2002 - Xira do Vouga by Afiançado de Flandes (CQF)
Trainer's opinion:
To ride Zombado is a unique experience. His power and vivacity make him a thrill to ride. He is very athletic and has excellent gaits. Every rider should have the pleasure of riding such a horse. Zombado exemplifies the brilliance of the Lusitano breed.
Click on the links at the pedigree below to know more about the ancestors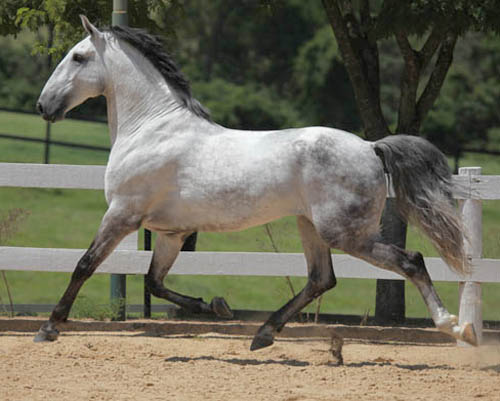 Approved as Stallion by the ABPSL