Sire: Nordeste (SS)
Dam: NÍspera (JPP)
Apocalipseís dam, a beautiful black mare NÍspera (JPP), was imported from the Coudelaria Josť Palha in Portugal. NÍspera (JPP), was sired by the Veiga stallion Ging"o (MV) and by a Palha black mare, Estada (JPP), who in turn was sired by a black stallion, Gafanhoto (OC), from the Coudelaria Ortig"o Costa, which is dedicated to breeding black Lusitanos. NÍspera (JPP) left an Interagro progeny of six, five blacks and one buckskin, all very beautiful and athletic. As detailed befone, (see text for Agamemnon Interagro), Interagroís breeding plan included the injection of the Firme (SA)/Novilheiro(MV) line in the development of the Interagro Horse, and the black stallion Nordeste (SS) was one of the agents of this process. In particular, Nordeste also brought in the Quina (CI) blood which has proven to be a recommended crossing for the Firme/Novilheiro strain. Apocalipseís pedigree and functional qualities described below demonstrate good breeding credentials for this young stallion.
Interagro Damís progeny:
Trovoada Interagro by Nicola (MAC) on 26/Oct/1999
Urtig"o Interagro by Girofle (APP) on 14/Jan/2001
Vitamina Interagro by Girofle (APP) on 3/Feb/2002
Xitau Interagro by Pilatos Interagro on 15/Jan/2003 - Exported
Zenaide Interagro by Nicola (MAC) on 10/Jan/2004
Bismarck RJS by Nordeste (SS) on 18/Dec/2005
Cameron RJS by Xicabom Comando SN on 22/Feb/2007
Esmeralda do Drosa by Tuf"o Interagro on 20/Oct/2008
Trainerís opinion:
This powerful, black stallion already shows a clear ability to collect and extend his gaits. Apocalipse Interagro may not be large, but he gives his rider a big feel, and heís fun to ride. A sweet horse with a good work ethic and a great attitude, Apocalipse Interagro has natural balance and a steady, confident cadence in his gaits. He is full of positive, forward energy and shows super trainability. In the arena, he is wellbehaved and responds quickly to his riderís aids and efforts to teach him something new. Apocalipse Interagro may show off on the hack, but his nature is kind. As a result of his Lusitano heritage that makes collection a dream, this proud horse is showing a great talent for extension. His ability to extend the trot is improving each day, and we expect his extended trot will become one of his highlights in the dressage competition ring as he gets stronger. Apocalipse Interagroís dressage ability is no accident. His father, Nordeste (SS), won several prestigious prizes at the Prix St. George level in Portugal before he was exported to Interagroís stallion program because of his dressage talent and beautiful black color. One of Nordesteís (SS) sons, Van Gogh, is successfully showing in the FEIģ in Brazil. Apocalipse Interagro is another example of great promise for the dressage competition ring. He is a good prospect for the serious dressage rider who is looking for a future star! Apocalipse Interagro will be a good horse for an experienced amateur and, also, for the professional in the open division.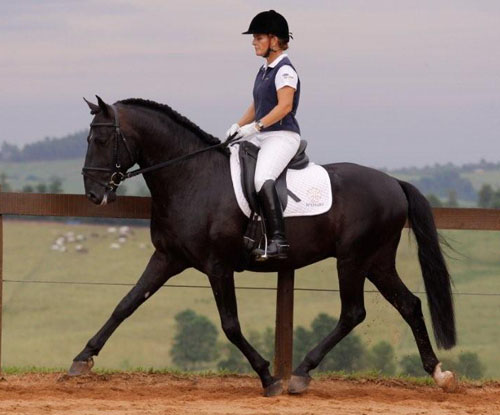 Photo: Tupa



If you are having trouble seeing the video above, please update your flash player by clicking HERE.













Click on the tumbnails to enlarge the pictures

Approved as Stallion by the ABPSL