Sire: Oceano (MV)
Dam: Nevada's sire Danúbio II (MV), is son of Zimbro II (MV) by Nilo (MV) and her dam Zarzuela (MV) is daughter of Nilo. Nevada won the 5th place gold medal at the XXII International Lusitano Exhibition in 2003. In 2005 she was awarded with the 5th place (5th category) at the II Purebred Lusitano Festival. In 2006 Nevada won the 4th place and she was Champion of the Champions Gold medal at the III Purebred Lusitano Festival.
Astro Dam's Progeny
Xairel do Mito, by Oceano (MV), 11/ Mar/2003 (sold at the 2008 Lusitano Collection)
Baioneta do Mito, by Oceano (MV), 08/Sep/2005
Defender do Mito, by Ofensor (MV), 09/Sep/2007
About Astro:
Astro do Mito is a young stallion bred by the Rocas do Vouga Stud Farm. Demonstrating highly refined genetic potential, he would be an asset to any breeding program. This talented horse has a sweet temperament, is well balanced and shows three correct gaits. Easy to start under saddle, Astro exhibits a smooth canter and moves with free regularity. Astro do Mito is an exciting prospect for someone interested in both breeding and competing a confident sport horse.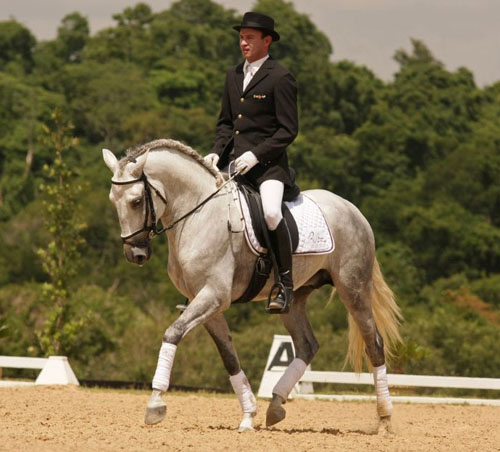 Photo: Tupa
Click on the tumbnails to enlarge the pictures
Approved as Stallion by the ABPSL