Sire: Oceano (MV)
Dam: Unica Forma do Top is daughter of Petroleo do Top by Eleito (MAC) with Radiacao do Top by
Afiançado de Flandes (CQF).
Rocas do Vouga Dam's Progeny
Batalha do Vouga, by Oceano (MV), 27/Jul/ 2004
Cantiga do Vouga by Oceano (MV) on 10/Sep/2006
Dádiva do Vouga by Oceano (MV) on 25/Aug/2007
Escudo do Vouga by Violino (SS) on 15/Aug/2008
About Atlas do Vouga:
Atlas do Vouga is an athletic stallion with an excellent bloodline. The son of Oceano (MV) with Unicaforma do Top by Petróleo do Top, Atlas is a light and elegant horse with superb conformation. Atlas has a long neck, which is very desirable to many riders. Though Atlas has abundant energy, he has a calm, gentle temperament and is quite sensitive. Graceful and balanced, Atlas performs all of the basic dressage exercises with confidence. His shoulder allows a super free front leg. Atlas delivers three superior gaits, especially the canter which is always "uphill." Atlas do Vouga will perform best with an experienced rider. Atlas do Vouga was taken twice to the International Show in Brazil, known as the biggest Purebred Lusitano show in the world, in 2008 and 2009. He placed second both times with Silver Medal.
Trainer's opinion:
Despite his energetic attitude, Atlas shows a very nice behavior and is completely dedicated to his rider. He has very good gaits, a nice shape and is ready to please both amateurs and professionals.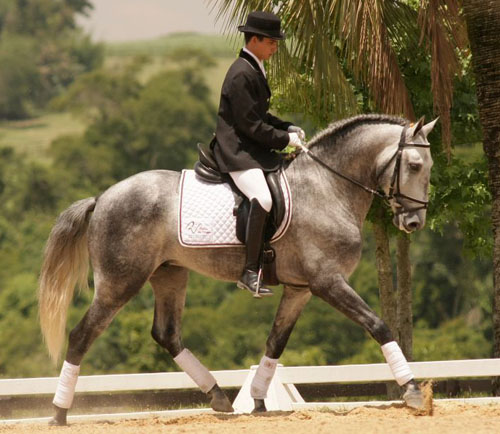 Photo: Tupa



If you are having trouble seeing the video above, please update your flash player by clicking HERE.


Click on the tumbnails to enlarge the pictures
Approved as Stallion by the ABPSL