Sire: Perdigueiro (MAC)
Dam: Lantejoula (JNU)
Dam, Lantejoula (JNU), comes from the Coudelaria Núncio, founded by João Núncio, a famous Portuguese bullfighter who rode and selected horses for the Coudelaria Veiga (MV) according to their behavior and performance in the arena. The Núncio mares are all from pure Veiga origin, have an extremely high degree of consanguinity and are not available in the market. Through a special concession from the Núncio family, Interagro is the only breeder to obtain a group of these treasured mares. These females are a valuable asset for any top level breeding program that can use the proper stallions to fully match their extraordinary genetic power and transmit it to their offspring. Interagro is very satisfied with the results obtained with these crossings; good examples are Berloque Interagro and Alcazar Interagro [Perdigueiro (Mac) x Rabina (JNU)], also offered at this Collection. Lantejoula (JNU) so far has an Interagro progeny of seven, including Ximenes Interagro, who sold in the 2009 Collection. Alcazar has all that it takes to become a top stallion.
Interagro Dam's progeny:
Ulla Interagro by Emir II (MV) on 08/Dec/2000
Visigodo Interagro by Emir II (MV) on 16/Nov/2001
Ximenes Interagro by Perdigueiro (MAC) on 22/Oct/2002 (Sold at The 2006 Lusitano Collection)
Alcazar Interagro by Perdigueiro (MAC) on 02/Aug/2004
Carpideira Interagro by Ofensor (MV) on 22/Oct/2006
Despojado Interagro by Ofensor (MV) on 26/Sep/2007
Eleonora Interagro by Perdigueiro (MAC) on 05/Sep/2008
Trainer's opinion:
Berloque Interagro is an exceptional stallion for the dressage competitor! As a one-year-old, he received a third place gold medal in 1st Category Males PSL – 1 year at The 2007 Lusitano International Show. Throughout his training, he has proven he has the whole package to be very valuable in the competition ring. Noble and confident, he may toss his mane, strut around and vocalize to announce his arrival, but he quickly shifts into a serious, working mode. This well-balanced, coordinated horse feels like a more experienced mount. His amazing temperament and sheer quality make him one of our favorites to train. Berloque Interagro comes from a proven pedigree combination. Other stallions with this pedigree that we have trained and sold include Alcazar Interagro from the 2009 Collection and Ximenes Interagro from the 2006 Collection, also favorites of the training staff. Berloque has a natural metronome to his gaits, which is a wonderful help to his rider. He enjoys going out on a hack and is well-behaved for such a powerful, proud stallion. Berloque Interagro is a great choice for many riders because of the aforementioned qualities, his great intelligence and trainability. Berloque will surely find success in the dressage competition ring.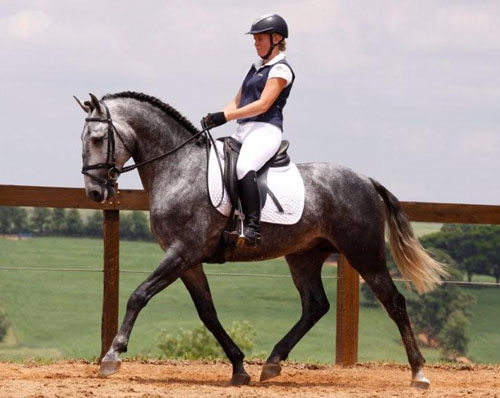 Photo: Tupa



If you are having trouble seeing the video above, please update your flash player by clicking HERE.











Click on the tumbnails to enlarge the pictures
Approved as Stallion by the ABPSL