Vouga Team
Rocas do Vouga´s manager
Raul Silva is the manager of the Rocas do Vouga stud farm, which specializes in breeding Lusitano horses. Silva coordinates the do Vouga breeding program, which is dedicated to maintaining and crossing the traditional pure Lusitano lines with various sport Lusitano lines. As a result, Rocas do Vouga produces purebred Lusitanos with exceptional talent for sport horse endeavors that also maintain the very positive breed characteristics of the Lusitano including a willingness to please, superior trainability, and above average intelligence. Silva, who graduated with a veterinary degree in 1992, is also a licensed judge and attends conformation classes and stallion tests. Silva is uniquely qualified for his roles at do Vouga as he also served for eight years as the Studbook Director for the Brazilian Warmblood Registry and another eight years as Studbook Director for the Purebred Lusitano in Brazil. In addition to managing the do Vouga farm, Silva also organizes several dressage clinics a year with international clinicians such as Mariette Whitages, Volker Moritz, Wojtek Markowski, Jan Brink, Inke Schellekens-Bartels, Dolf Keller, Daniel Pinto, and Juan Munoz, among others.
Riders
Edneu Senhorini
Edneu, a top professional rider from Rocas do Vouga's Team, will be joining the auction in the United States for a third year in a row. Born in Curitiba, the Southern region of Brazil, Edneu, at 31 years of age brings with him 15 years of riding experience.
In 2010, he started participating in International competitions, riding Xaparro do Vouga at St. Georges level. On his second CDI*** he scored 63.5%, placing 6th between 18 competitors.
A concentrated rider, Edneu has classes twice a week with one of the most successful Brazilian riders, Ingrid Troyko, who was awarded second place at Aachen GP during the 70's. He enjoys riding and, especially, being a part of the auction in the United States.
Sérgio Marques de Olveira
Serginho, as he is known, is a talented young rider from the Rocas do Vouga Dressage Team. At 25 years of age, he has been riding for Rocas do Vouga since he was 16. Serginho is a sensitive rider and an important starting rider for the young and medium stage horses. He is also a very good competitive rider and a student of Ingrid Troyko.
Serginho will be joining us in the United States for the first time in 2011. He is very much looking forward to showing his work and his horses to the US market.
Vouga Team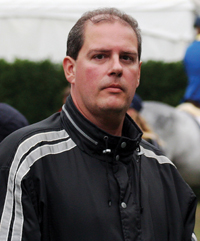 Mr Raul Silva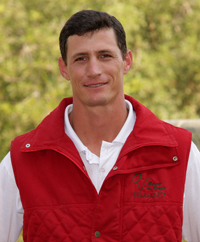 Mr Edneu Senhorini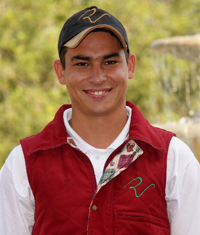 Mr Sérgio Marques de Olveira