Sire: Nordeste (SS)
Dam: Trovoada Interagro
Blackstone Interagro's dam, Trovoada Interagro [Nicola (MAC) x Nêspera (JPP)], is a very beautiful and prolific brood mare. Regarding her sire, Nicola (MAC), please see the book, "The Lusitano Horse – Basic Lineages" or our Website. Trovoada Interagro has an Interagro progeny of six, the eldest one being Zulu Interagro who brought a record price in the 2008 Collection®. Her dam, Nêspera (JPP), is also the dam of Apocalipse Interagro and was mentioned in the latter's text. Like the other Nordeste (SS) sons offered in this Collection (Apocalipse and Black Tie), Blackstone Interagro is the result of a crossing from the important Firme (SA)/Nilo (MV)/Novilheiro (MV) lineage which is in great demand for those seeking FEI® caliber sport horses. All three of these 2010 Collection brothers possess the excellent qualities of this modern lineage as shown in the "Trainer's Opinions" issued for each of them.
Interagro Dam's progeny:
Zulu Interagro by Profano Interagro on 16/Sep/2003 (Sold at The 2008 Lusitano Collection®)
Assíria Interagro by Nordeste (SS) on 19/Sep/2004
Carbono Interagro by Nordeste (SS) on 05/Sep/2006
Dida Interagro by Nordeste (SS) on 02/Sep/2007
Exemplar Interagro by Profano Interagro on 20/Sep/2008
Trainer's opinion
Although Blackstone resembles his half brother, Black Tie, in his handsome black-coat looks, he has proven to be more sensitive, serious and focused. This good-natured stallion reacts easily to his rider's energy and will gain confidence from having a solid training program. Though mentally younger than his brother, Blackstone quickly focuses on his work, especially if it includes cavallettis, jumping or learning something new on the flat. Blackstone, like his Collection half brother, loves to jump and demonstrates as much talent. Influenced by the Nordeste (SS) bloodlines, he is a very clever and calm jumper. Naturally forward and highly energetic, Blackstone may progress best with a secure rider as he can become stressed while out on a hack. Through his maternal grandfather, Nicola (MAC), Interagro has produced amateur horses with excellent temperaments, and many of these horses have sold in the Collection to become extremely successful in competition. Black Stone also shares the same mother as The 2008 Collection® record-priced black stallion, Zulu Interagro, that has received tremendous recognition in shows and clinics. Blackstone is a beautiful, elegant and kind stallion who will respond well to a rider who is as sensitive as he is!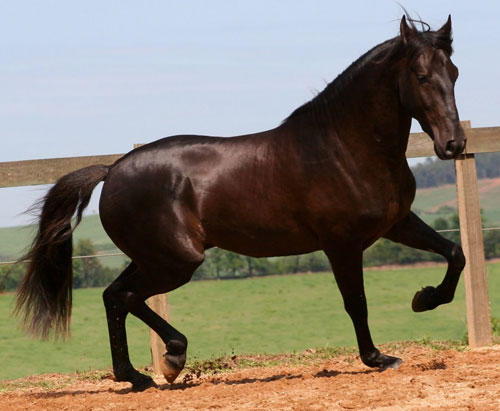 Photo: Davi Carrano



If you are having trouble seeing the video above, please update your flash player by clicking HERE.













Click on the tumbnails to enlarge the pictures

Approved as Stallion by the ABPSL