Sire: Quínio Interagro
Dam: Rebeca (JNU)
Brasonado's dam, Rebeca (JNU) is a Núncio (JNU) brood mare, just like Lantejoula (JNU), the dam of Berloque Interagro and Alcazar Interagro; and Rabina (JNU), dam of Baluarte Interagro. The Núncio mares are all from pure Veiga origin, have an extremely high degree of consanguinity and are not available in the market. Through a special concession from the Núncio family, Interagro is the only breeder to obtain a group of these treasured mares. These females are a valuable asset for any top level breeding program that can use the proper stallions to fully match their extraordinary genetic power and transmit it to their offspring. Brasonado Interagro differs from his two Collection brothers, Alcazar and Berloque who are by Perdigueiro (MAC); Brasonado comes from Quínio, thus having the Quina (CI) contribution from Xique Xique (CI) and the Andrade (SA) blood of Cyclope (SA), one of the Founding Mares of the Interagro Lineage. The selection of three Núncio (JNU) horses by the Trainer's committee in charge of choosing the best prospects for the Collection is a strong confirmation of the reputation these horses enjoy as one of the most functional lineages in the breed. To date, Rebeca (JNU) has an Interagro offspring of three, Brasonado being the second born after the mare, Zagaia Interagro.
Interagro Dam's progeny:
Zagaia Interagro by Nicola (MAC) on 13/Oct/2003
Estrela Interagro by Tufão Interagro on 21/Oct/2008
Trainer's opinion
This lovely, elegant son of Quinio Interagro already demonstrates a very noble character. Brasonado Interagro is a perfect combination of athleticism and trainability. His coat shimmers in the sun, his body has great proportions, and he is still growing. Brasonado's father, Quinio Interagro, stands at 16.3 1/2 hands, has exceptional gaits and the most docile and noble temperament -- all the qualities that are indispensable to a dressage competitor. Now add Brasonado Interagro's grandfather, Xique-Xique (CI), into the mix, and you have one of the most influential dressage lines at Interagro today. Only two of Quinio Interagro's offspring have ever been sold at a collection: Xisto Interago and Xotogan Interagro, both in 2008. Definitely a "cool character," this special stallion likes to express himself vocally, but is calm and well-behaved. A happy horse who likes his job, he is great out on a hack. He promises to be a good choice for an amateur with a good training program. This kind stallion is easy to sit and demonstrates potential to have an impressive trot in the future! Given Brasonado Interagro fine bloodlines and abilities, he is an excellent dressage prospect.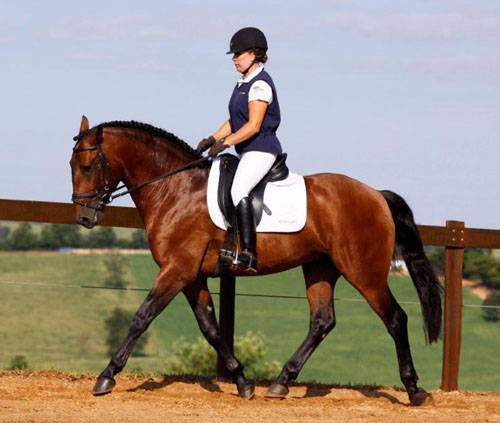 Photo: Tupa



If you are having trouble seeing the video above, please update your flash player by clicking HERE.









Click on the tumbnails to enlarge the pictures

Approved as Stallion by the ABPSL